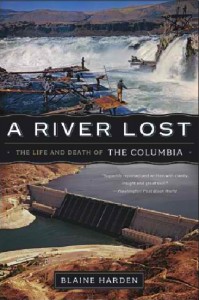 A River Lost (W.W. Norton) — Revised and Updated for April, 2012.
An interview with Blaine about the new edition and some hopeful change in management of the Columbia River appeared on Oregon Public Radio and in EarthFix.
Blaine was featured in an April 2012 broadcast of PBS American Experience, Grand Coulee Dam. The program focused on the mixed legacy of Grand Coulee Dam, once described as "the world's biggest thing."
A River Lost chronicles the self-righteous rise and disputatious fall of the West's most thoroughly conquered river. After two decades absence, Blaine returned to his home town of Moses Lake, Washington, to explore the Columbia and befriend those who collaborated in its destruction, he traveled on a monstrous freight barge sailing west from Idaho. The book is a searing personal narrative of rediscovery joined with a narrative of exploitation: of Native Americans, of endangered salmon, of nuclear waste, and of a once-wild river. Updated throughout, this edition features a new preface and charts the latest twists in the long war over the future of the Columbia.
"A hard-nosed, clear-eyed, tough-minded dispatch on the sort of contentious subject that is almost always distorted by ideology or obscured by a fog of sentiment…A scathing indictment of technocratic hubris …. A precise and brave book."—New York Times Book Review
"Superbly reported and written with clarity, insight, and great skill."—Washington Post Book World