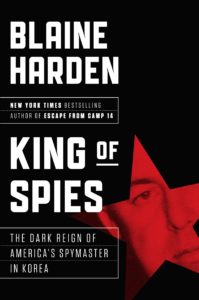 "A masterful work of narrative history."
"A rip-roaring exposé of U.S. black ops," says Asia Times. "The narrative races along…"
A "page-turner that is difficult to put down," says 38 North, the website for N. Korea watchers. "A treasure trove of information for a compelling personal account of a significant and virtually unknown American in the Korean War… No one is better placed to write this story than Blaine Harden."
ABC News interview about King of Spies and North Korea.
The Man Who Helped Burn Down North Korea
Colonel Kurtz in North Korea
"Compellingly told… dark side" of an American spy
"A good yarn and a timely one — appearing as Americans are once again pondering the possibility of war with North Korea."
"A must-read" that raises "troubling questions" about U.S. intelligence operations in Korea.
— Library Journal


"Fascinating account of an espionage pioneer who thrived during the Korean War and then disappeared into disgraced obscurity. . . . "
Reveals "one of Cold War America's most notable intelligence operatives… an exemplar of a war that most Americans never debated, let alone understood."
 Order:
Press about King of Spies and North Korea:
The Economist seconds my take on Trump v. Kim
Why Kim Jong Un is Alienating China in WaPo
Why Can't China Control North Korea for PBS FRONTLINE
My interview about King Of Spies on WYNC
CNN interview with Christiane Amanpour
MSNBC interview with Alex Witt
Podcast from Oregon's Jefferson Public Radio
Early Praise:
"Blaine Harden's King of Spies is jaw-droppingly good — a quirky, unlikely, thrilling true story of intrigue and daring and depravity told by a master of the genre."
—David Maraniss, author of Once in a Great City
"King of Spies is a dark story of espionage and evil by a wild American military spymaster in Korea, a tale both revelatory and tragic. Blaine Harden's superb book throws open a long-ignored chapter in the Korean War; a compelling and disturbing read, not to be missed."
—David E. Hoffman, author of The Billion Dollar Spy
"Blaine Harden has now produced a fascinating trilogy of stranger-than-fiction books about North Korea. His latest, King of Spies, is about a gay, middle school dropout who was one of the few U.S. officials to predict the outbreak of the Korean War and whose espionage activities had a profound impact on the course of the war. You've probably never heard of Donald Nichols, but you'll never forget him after reading King of Spies."
—Barbara Demick, author of Nothing to Envy
"Blaine Harden has unearthed one of the handful of Americans who supported, facilitated, and participated in the crimes of the South Korean dictators, shadowy men about whom people at home never hear… The author brings Nichols to life not as an evil character, but a fascinating man afflicted by early family pathology, deep insecurities, and a remarkable ability to get things done—to get anything done."—Bruce Cumings, author of The Korean War: A History
"A thrilling real-life spy story told by a terrific writer."
—Tim Weiner, author of Legacy of Ashes
"Blaine Harden has done what no one else thought to do in seven decades: He's brought us the full, secret, astonishing story of one of the most improbably powerful characters in American history, and he has done so with crystalline writing and in jaw-dropping detail."
—Steve Twomey, author of Countdown to Pearl Harbor
"Many accounts of the Korean War are full of mystery, hinting at horrific crimes and large-scale covert operations. King of Spies pierces that mystery through the story of a remarkable American operative who took his mission to mind-boggling extremes.  The adventures that fill these pages, from bleak battlefields to the corridors of power, tell us much about how the world really works."
—Stephen Kinzer, author of Overthrow

 
British edition
Pre-order:
King of Spies exposes on untold story of American military misbehavior in Korea…
It's antihero is Donald Nichols, a 7th-grade dropout turned U.S. Air Force spy boss. His commanding generals called him a "one man war." The generals gave Nichols his own secret base, his own secret army of Korean agents, and almost no supervision. Nichols said they also gave him "a license to murder."
During his extraordinary 11-year tenure in Korea, Nichols would become America's Kurtz. He operated in a shadowland of executions and torture, while sending hundreds of his agents to their deaths inside North Korea. His reign ended suddenly, when he was secretly removed from South Korea, locked up in a U.S. military hospital in Florida and subjected to 50 rounds of memory-obliterating electroshock.
The story of his rise and fall has not been told before. King of Spies is based on Nichols's previously unreleased military service record, his psychiatric treatment notes, Syngman Rhee's presidential papers, newly declassified air force records, family letters and photographs, unsealed court records in Florida, and interviews with American and South Korean intelligence officers who served with Nichols.
Before, during and after the Korean War, Nichols's intelligence unit—called NICK—out-spied the CIA and Army intelligence. Nichols broke North Korean army codes, found weaknesses in Soviet tanks and fighter jets, and located most of the targets for American carpet-bombing and napalming of North Korea during the war. In the process, he secretly won 21 medals. including the Distinguished Service Cross, America's second highest honor for battlefield valor.
Nichols was also a close confidant of South Korea's first president, Syngman Rhee, at a time when Rhee's security forces—in a fevered hunt for Communists—were killing more than 100,000 South Korean civilians, including women and children. Nichols trained Rhee's sadistic police and worked with Rhee's senior henchmen. A U.S. Army photo (published for the first time in my book) shows Nichols inspecting a severed head in a bucket on the roof of South Korean Army headquarters in Seoul. The U.S. military and the South Korean government covered up these killings for nearly half a century.
In 1957, fours years after the war ended, the U.S. military finally soured on Nichols. It spirited him out of Korea in a straitjacket, diagnosed him (wrongly) as "schizophrenic," and forced him to undergo months of electroshock in the psych ward at Eglin Air Force Base Hospital on the Florida Panhandle. He told relatives that "the government wanted to erase his brain—because he knew too much." He was then forced out of the air force. As a confused and often criminal civilian, he joined what he called the ranks of "the living dead," with the FBI and local police periodically giving chase. He wrote an unreliable memoir in 1981 and died in a VA hospital in 1992.