N Korea has itself said Shin Dong-hyuk escaped the country twice
Shin told me last week that he had twice fled North Korea for China. He made this new claim during an interview in which he changed some key elements of the story of his life in the North Korean gulag. He said that in 2001, when he was 19, he escaped political prison Camp 18 and fled north to China. After four months, he said, Chinese police caught him and sent him back to North Korea. Then he said he was taken by guards back to the gulag, first to Camp 18 and then to the more brutal Camp 14.
Last October 8, a press release from the North Korean mission at the UN in New York stated that Shin had indeed fled to China twice. It said that in 2002 Shin "was arrested by Chinese border guards for illegal border crossing. Thereafter, he was transferred back to our law enforcement agencies, but instead of showing true regret and trying to redeem his crime, he again made an illegal border crossing and ran over to the South." North Korea did not say Shin escaped from political labor camps; it denies that they exist.
North Korea, however, did unintentionally disclose that Shin did live as a child in a political prison camp (Camp 18), according to Curtis Melvin, who writes the respected NK Economy Watch blog.
There are many details in Shin's new story that have not been confirmed. But it seems fair to conclude that evidence exists to corroborate some significant aspects. The sources are North Korean propaganda videos and statements that denounce Shin as "scum" and a "parasite."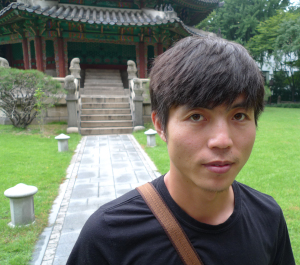 Shin changes key parts of his story
Here is a statement that I have released to the press:
On Friday, January 16, I learned that Shin Dong-hyuk, the North Korean prison camp survivor who is the subject of Escape from Camp 14, had told friends an account of his life that differed substantially from the book.
I contacted him by phone on Friday and talked to him at length, pressing him to detail the changes and explain why he had misled me. I then passed on this information to the Washington Post, for which I originally wrote a story about Shin in 2008.
[The Post reported its own story, which was published online Saturday, Jan. 17. The New York Times posted its story on Sunday, Jan. 18.]
Shin, 32, who lives in Seoul and whose testimony was a major factor in United Nations condemnation of North Korea for human rights violations, now says that he twice escaped to China from two different prison camps in North Korea. After his first crossing into China in 2001, he says he was caught after four months by local police and sent back to North Korea.
Shin now says that he was tortured in Camp 14 in 2002, when he was 20 years old, as punishment for his defection to China. In the book, he gave an account of being tortured in the camp when he was 13 years old. Shin has been telling that version for nearly nine years, since he first arrived in South Korea from China in 2006 and was debriefed by South Korean and American intelligence officials.
"When I agreed to share my experience for the book, I found it was too painful to think about some of the things that happened," he said. "So I made a compromise in my mind. I altered some details that I thought wouldn't matter. I didn't want to tell exactly what happened in order not to relive these painful moments all over again."
Escape from Camp 14 was first published by Viking in 2012 and published in paperback by Penguin in 2013. It has been published in 27 languages.
It appears that much of Shin's revised account is consistent with the story told in the book and with his testimony before a U.N. Commission of Inquiry on human rights abuses in North Korea: He says he was tortured in Camp 14, a sprawling prison in the mountains of North Korea. He also says he escaped the prison in 2005 by climbing over the body of a fellow inmate who was electrocuted on the fence that surrounds the camp.
But he has significantly revised details of his early life and substantially changed the dates and places of major events. He says that he was born in Camp 14, but when he was about six years old, he and his mother and brother were transferred to another nearby prison camp, Camp 18, located just across the Taedong River.
It was in Camp 18, Shin said, that he betrayed his mother and brother, after overhearing their plans to escape. It was also in this camp, he said, that he witnessed the execution of his mother and brother. (In the book, these events were described by Shin as occurring in Camp 14.)
For the first time, Shin now says he twice escaped from Camp 18 when he was a teenager, first in 1999 and then in 2001. After the first escape, he was caught within a couple of days. Following his second escape, he managed to travel to China. But police arrested him there, he said, and sent him back to North Korea. Guards returned him first to Camp 18 and then, for punishment and torture, to Camp 14, Shin said in the interview.
In Escape from Camp 14, Shin describes how guards tortured him by fire in that camp when he was 13 years old, when they suspected him of plotting to escape with his family. His lower back is still scarred from severe burns.
But in the phone interview, Shin said that he was actually tortured much later, when he was 20. It happened, he said, after his return from China. In Camp 14 in 2002, he said, guards confined him in an underground prison for six months, where he was repeatedly burned and tortured.
It was then, he said, that part of one of his finger was mangled, as guards pulled out his fingernails. In Escape from Camp 14, Shin said an angry guard cut off the finger because Shin dropped a valuable sewing machine.
Asked why he had altered such details, when they in no way changed the horror of his story, Shin said he thought the dates, places and circumstances were not all that significant.
"I didn't realize that changing these details would be important," he said. "I feel very bad that I wasn't able to come forward with the full truth at the beginning."
In light of my conversation with Shin, I am working with my publisher to gather more information and amend the book.
Last fall, the North Korean government released a propaganda video showing Shin's father. In the video, his father says that Shin never lived in a political prison camp.
Shin has said that the North Korean government was forcing his father to lie.
Now, Shin said in the interview, he realizes that his altered story puts his credibility at question.
"I am asking for forgiveness," he said.
In Foreign Policy, my analysis of motives behind North Korea's cyber-attack.
Sony changes mind, will release NKorean spoof movie despite threats.

 From Kirkus, the first review of my new North Korea book. It's out in March.
Escape from Camp 14 will be part of World Book Night, when 250,000 books are given away in April in the UK.
The aim is to put books in the hands of the 35 percent of the British population that normally doesn't read for pleasure.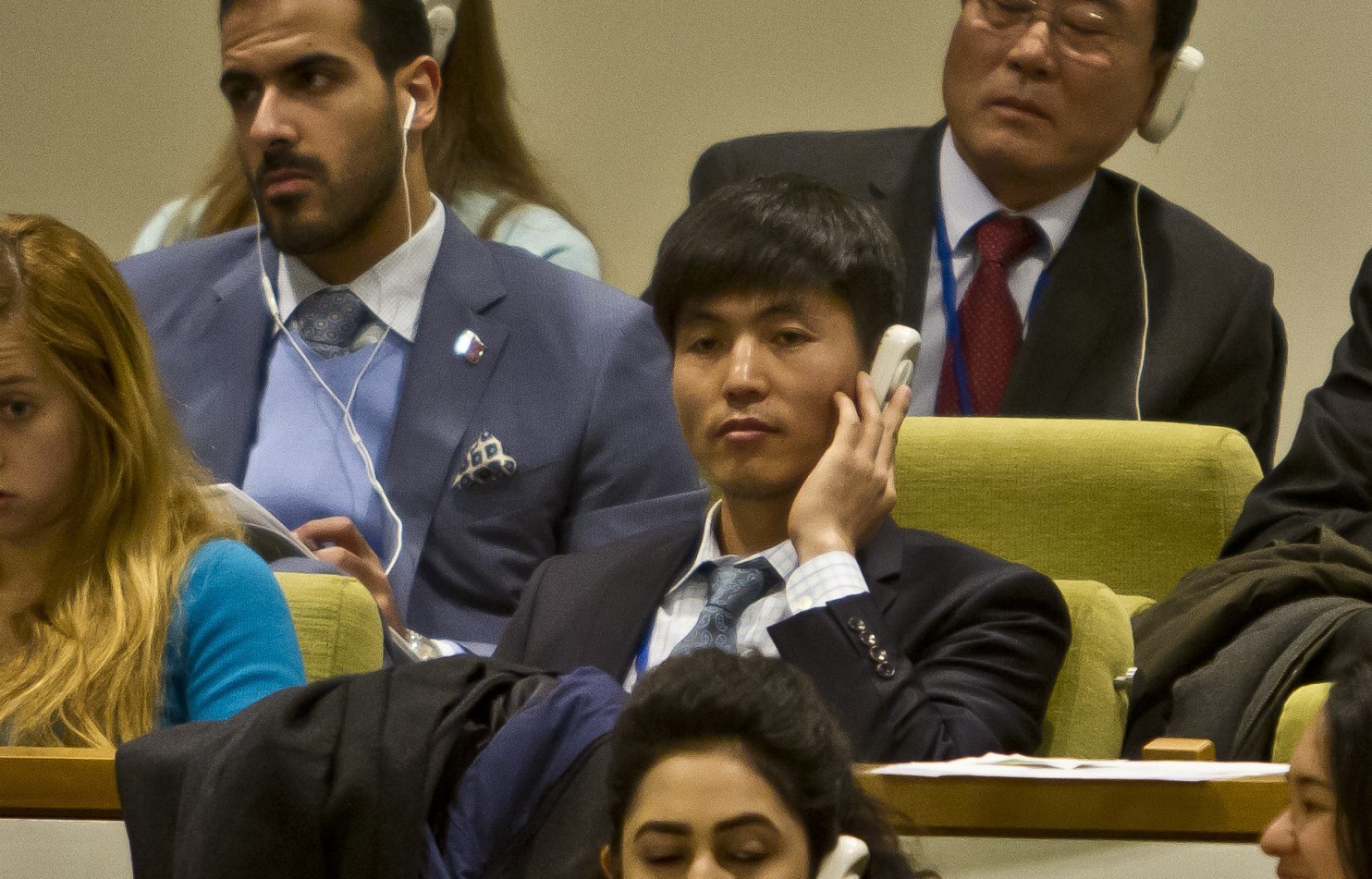 In Washington Post op-ed, Shin Dong-hyuk writes: North Korea will not silence me.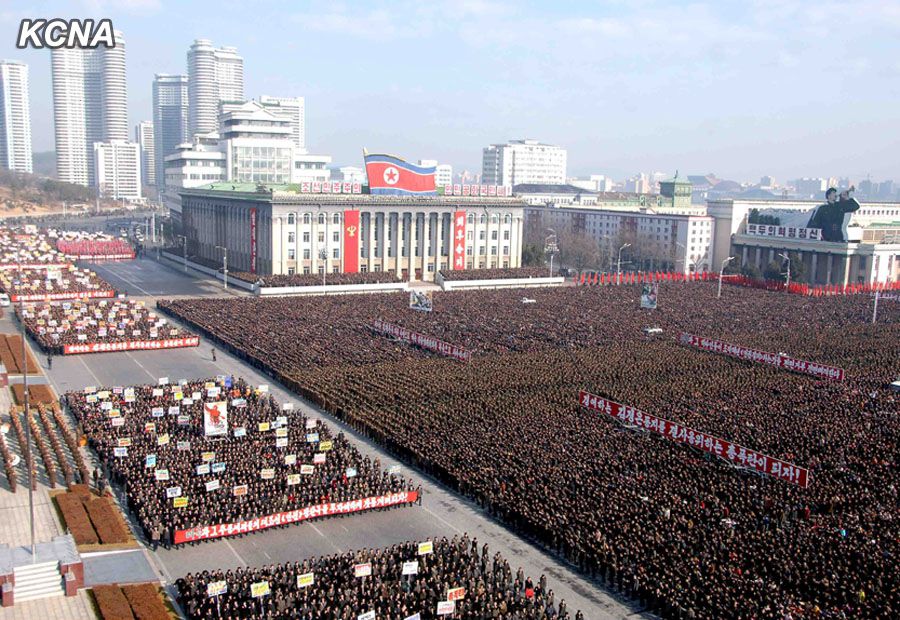 North Korea stages huge demo against UN vote that refers its human rights atrocities to International Criminal Court.
Pyongyang says vote was "an undisguised declaration of a war to disgrace the genuine human rights of the DPRK and infringe upon its sovereignty." Leader Kim Jong Un describes Americans as "cannibals," reports NYT.

Editorials in the New York Times and the Washington Post say N. Korea's human rights abuses are abhorrent and warrant action by the UN Security Council.
The editorial pages of the Times and the Post have cited the influence of Shin Dong-hyuk and Escape from Camp 14 in raising world awareness.
Tantrum Time in Pyongyang:
A day after 111 nations voted to prosecute North Korea for crimes against humanity, its government called the vote a "grave political provocation" and threatened to blow up a 4th nuclear device.
During vote at UN headquarters, a N. Korean official tried — and failed — to get Shin Dong-hyuk thrown out of the proceedings.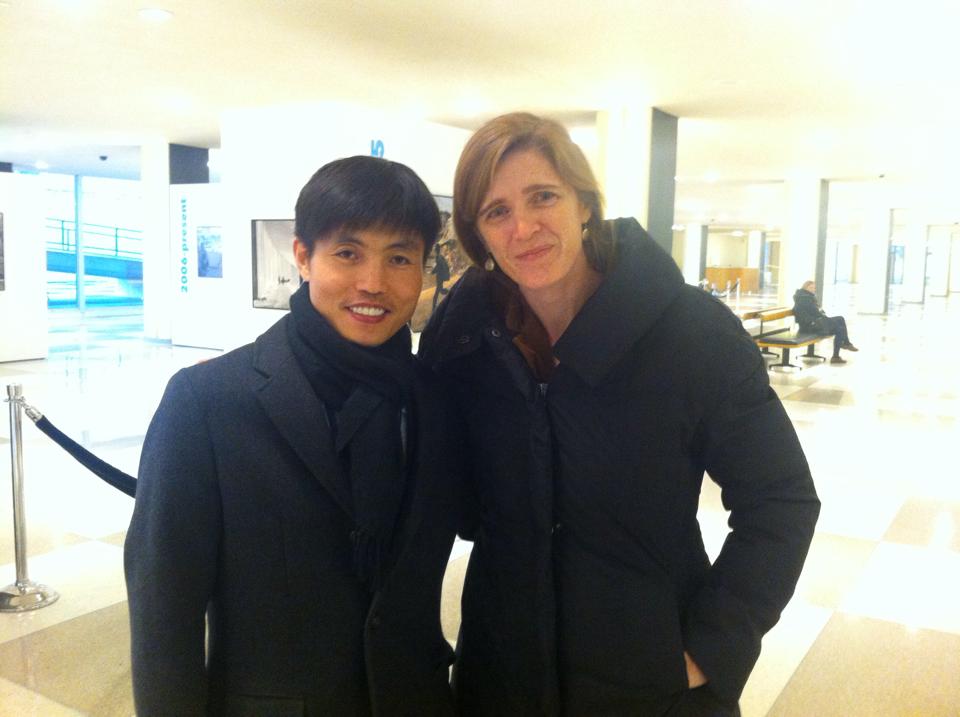 After the vote, Shin Dong-hyuk with UN Ambassador Samantha Power

Frantic to stop UN vote that could lead to trial of Kim Jong Un, N. Korea smears Shin Dong-hyuk, the New York Times reports.
The Times says Shin's "detailed disclosures about killings, torture, starvation and other deprivations in North Korea's penal system, including the execution of his mother while he was forced to watch, are … an important component of a devastating report on North Korea's human rights record."
At the Beverly Hilton Hotel in LA, he said that when he crawled through the electric fence to escape from Camp 14, he never thought he would come to a place like America.
North Korea, as part of its campaign to block a trial of its leader for crimes against humanity, has released character-assassination videos about Shin Dong-hyuk.
In the videos, Shin's father says his son's testimony is false and that he and his son "never lived in a so-called political prison camp." Other witnesses in the video accuse Shin of everything from laziness, to rape, to stealing someone's underpants. Until he saw the videos this week, Shin had long feared that his father had been killed in Camp 14. Shin last saw him on January 1, 2005, the day before Shin escaped the labor camp. After viewing the video, Shin now believes his father is alive. He also says his father is being "held hostage" by North Korea, which has coerced him into denouncing his son.
North Korea has a long history of using videos to attack defectors. In the Washington Post, Joanna Hosaniak of the Citizens' Alliance for North Korean Human Rights, a Seoul-based nongovernmental organization, describes North Korea's campaign to derail a trial as "a total hoax." She added: "They're trying to wage this war because they are so afraid that they will be referred to the International Criminal Court.
Momentum is building to try North Korea before the International Criminal Court for crimes against humanity, the New York Times reports.

North Korea diplomats at U.N. have been forced to respond.
Coming in March, a prequel to Escape from Camp 14.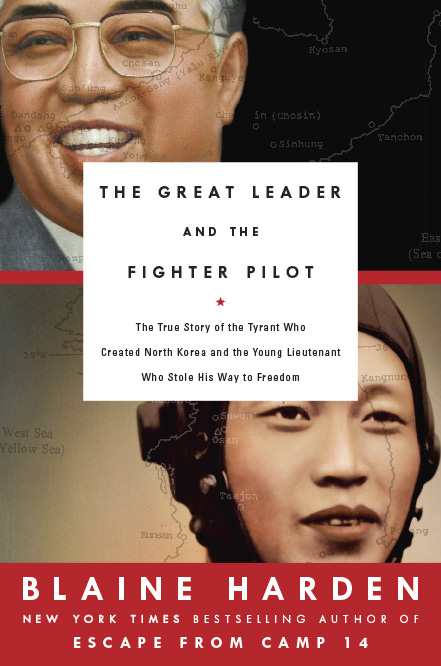 A heart-pounding escape adventure and a new way to understand the world's last totalitarian state. Advance praise from authors, scholars, and N. Korean experts:
"Blaine Harden takes us on a fascinating journey deep into the dark origins of the North Korean state, leavened by a stirring account of one young man's courageous quest to escape it. Thoroughly transporting." — Daniel James Brown, author of The Boys on the Boat
"I could not put this book down. The interwoven stories of Kim Il-sung and MIG fighter pilot No Kum-sok are carefully researched and artfully told. Harden shows how each man played the system to achieve his lifelong goal — in Kim's case, the creation of a personality cult, oppressive regime, and in No's case, defection from it." — Victor Cha, author of The Impossible State and Director of Asian Studies, Georgetown University
The Great Leader and the Fighter Pilot is at once a fascinating look at how evil takes hold and how one ordinary man escapes its grasp with wit and determination. Harden's compelling narrative is not to be missed, an outstanding follow-up to Escape from Camp 14. — Gregory A. Freeman, author of The Gathering Wind: Hurricane Sandy, the Sailing Ship Bounty, and a Courageous Rescue at Sea
"Having exposed the full horror of the North Korean gulag by telling the story of Shin Dong-hyuk's escape from Camp 14, Blaine Harden now uses contrasting portraits of the founding tyrant Kim Il Sung and the young MiG pilot who flew to freedom six decades ago to explain how the monstrous political system of North Korea came into existence in the first place. The result is a triumph of story-telling that brings history to life and explains why the North Korean regime is such a menace to its own people and to the world."— Carl Gershman, President of the National Endowment for Democracy
"A masterful account of a forgotten story from a forgotten war. In an artful blending of the stories of Kim Il-Sung's rise to power and leadership of North Korea during the Korean War, with that of No Kum Sok, a young man who became a fighter pilot in the North Korean Air Force and who defected to South Korea in his MiG-15, he provides us with a unique insight into a missing chapter of the Korean War. Blaine's account of No Kum Sok's life before, during and after the Korean War is a commanding performance of interviews and exploitation of declassified intelligence documents. The Great Leader and the Fighter Pilot, is recommended to anyone interested in the Korean War, Kim Il-sung or military aviation."— Joseph Bermudez, North Korea expert and Chief Analytics Officer and Co-Founder, A Unique Advantage
"Blaine Harden has a keen reporter's eye for detail and a writer's sense of drama and story. In his hands, a little known corner of North Korean history comes to brilliant life."  – Krys Lee, author of Drifting House
In addition to the United States and Canada, The Great Leader and the Fighter Pilot will be published next year in the United Kingdom, France, and Japan.
Secretary of State John Kerry, with Shin Dong-hyuk in NYC, tells North Korea to shut down the "evil system" of political labor camps. Complete text and video.

Spanish edition of Escape from Camp 14. In November from Kailas.
Human Rights Watch gives Shin Dong-hyuk an award for valor, honoring him as "the world's leading advocate for closing North Korea's camps."
On the Today Show, Escape from Camp 14 recommended as great summer read: "…a pulse-pounding thriller. This book will make you cheer. It will also make you cry.
Tourist biz booms in North Korea (earning hard currency for Kim family), even as regime detains tourists, reports Reuters.
An argument for the long-term good that would come from the collapse of North Korea.
My review in Washington Post of Dear Leader, a new book that looks inside the lives of the elite in Pyongyang and shows how China helps N. Korea catch high-value defectors.
N. Korea grabs another US tourist. Maybe it is wise not to visit world's worst human rights abuser and its smiling leader.

The Guardian puts Escape from Camp 14 on its list of best North Korea books



More than 684,000 people have watched this brilliant John Green vlog about Shin Dong-hyuk and Escape from Camp 14.

Shin Dong-hyuk to testify at an informal meeting of the UN Security Council, marking first time a NKorean defector addresses the Security Council.
Congratulations to Shin Dong-hyuk. He will receive an honorary doctorate from Dalhousie University in Halifax, Nova Scotia. The hero of Escape from Camp 14 is being recognized as "the foremost activist for human rights in North Korea."
Quick way to see how world shifted from being indifferent to N. Korea's crimes to demanding justice in international criminal court. Shin Dong-hyuk & Escape from Camp 14 played key roles.
Modest proposal: Deny N. Korea the global status it craves. De-recognize the country because of its crimes against humanity. Botswana did it. See excellent NK blog by Haggard and Noland.
The Economist has chilling drawings of N. Korea's gulag, plus analysis of China's pickle as patron of a state charged with crimes against humanity.
Washington Post editorial: This week's UN report on N. Korea's crimes against humanity is "a text that compares in significance to The Gulag Archipelago."
On MSNBC, I  discuss UN report on North Korea's crimes against humanity & China's likely veto of a trial.
60 Minutes replays piece on Shin Dong-hyuk, "Witness No. 1″ at UN's inquiry into NKorea's crimes against humanity.
UN Commission of Inquiry finds that N. Korea has committed crimes against humanity, AP reports.
In its cover story on the "Holocaust in North Korea," the Jewish Journal features Shin Dong-hyuk and Escape from Camp 14. Magazine's publisher says this is "one of the most important pieces the Jewish Journal has published in our 28-year history."
BBC World TV piece on the torment of Shin Dong-hyuk in Camp 14.
Rodman on CNN replies to criticism of his basketball game in North Korea: "I don't give a rat's ass what the hell you think." The other former NBA players look uncomfortable.
Good AP piece on the (mostly) troubled and (often) bankrupt former NBA players who followed Rodman to NKorea.
Dennis Rodman returns to NKorea with NBA pals to honor Kim Jong Un's birthday.
In the Washington Post, Shin Dong-hyuk tells Dennis Rodman how to behave in North Korea.

Everything you need to know about the curious purge of Uncle Jang & rise of NKorea's new "Great Leader" by Haggard/Noland in superb blog posting.
With publication in Spanish (Kailas), Italian (Edizioni Codice) and Latvian (Zvaigzne ABC), Escape will soon be translated into 27 languages.
Escape from Camp 14 hits top ten list (#3) for book-club reads this winter, as chosen by independent book stores.
George W. Bush talked with Shin Dong-hyuk at Bush Presidential Center in Dallas on 23 October. Bush asked Shin about his life in and escape from Camp 14.
Historian Adam Cathcart's full interview with me about how Escape from Camp 14 is becoming an icon of survival literature.
"I believe human rights mean eating what one wants to eat and saying what one wants," Shin Dong-hyuk, aka "Witness No. 1," said to the UN's Inquiry into human rights atrocities in NKorea. See story from Japan's Asahi Shimbun.

The Telegraph in London reviews Escape from Camp 14, calls it "riveting."
UN investigation of human rights abuses in NKorea finds "shocking" evidence of widespread atrocities requiring an international response.
Escape in 27 languages
Available now in the United States (Viking), Britain (Mantle), France (Belfond), the Netherlands (Balans), Brazil (Intrinseca), Germany (Deutsche Verlags-Anstalt), Japan (Hakusuisha), Finland (Ajatus Kirjat), Denmark (Kristeligt Dagblads Forlag), Sweden (Norstedts), Norway (Cappelen Damm), South Korea (Asan Institute for Policy Studies), Poland (Weltbild), Russia (Exmo), Slovakia (Vydavatelstvo Tatran), Slovenia (Ucila International Zalozba), Croatia (Benedikta), Serbia (Grafički atelje Dereta), Czech Republic (Euromedia Group), Hungary (HVG), Israel (Ma'ariv), Lithuania (Eugrimas), Romania (Corint), Sanskrit (Sanskrit Book), and in non-mainland Chinese-speaking countries (iG Publishing). To be published soon in Spain (Kailas), Italy (Edizioni Codice) and Latvian (Zvaigzne ABC).
New report on changes in North Korea's Gulag by David Hawk and the Committee on Human Rights in North Korea.
Washington Post editorial on North Korea's gulag says future historians will wonder how world could know so much about labor camp horrors and still do nothing.
Wall Street Journal reports N. Korea is trying to halt defections and silence rising voices of labor camp survivors like Shin Dong-hyuk.

New York Times reports on Shin Dong-hyuk's testimony before U.N. Commission of Inquiry into human rights abuses in N. Korea: "…they were keeping us as beasts of labor, to get the most out of us before we die."
Escape from Camp 14 "is one of a short but growing list of essential touchstones in a tragic new cultural genre," writes Adam Cathcart, editor-in-chief of Sino-NK. His interview with me in Yonsei Journal of International Studies, Spring, 2013
Speaking in English, Shin Dong-hyuk accepts award for "stirring the conscience of mankind."
Yes, Americans, you can travel for fun to N. Korea. You could also travel for fun to prewar Nazi Germany. Daily Beast's Lloyd Grove explains.

Shin testifies about life in Camp 14 at European Union hearing.
Escape becomes part of "common core" at schools in Washington D.C., helping teens learn to read, writes Education Week.
CSMonitor reports Escape from Camp 14 has made Shin Dong-hyuk world's "best-known advocate for exposing" NKorea's gulag.
Shin Dong-hyuk wins 2013 Moral Courage Award from UN Watch, a Geneva-based human rights group.
On May 19, 60 Minutes updated its story on Shin Dong-hyuk & Escape from Camp 14. Correspondent is Anderson Cooper.
CNN says Shin Dong-hyuk and Escape from Camp 14 have changed global discussion on N. Korea.
"Shin's story is being absorbed into the American experience…" reports Sino-NK, a website that covers NKorea.
If you want to attend, send RSVP to Ross Tokola at rosstokola@asaninst.org. For directions, check ASAN's website (www.asaninst.org). Event starts at 10 a.m. and includes lunch.
Escape from Camp 14 "is the most compelling and influential memoir yet written about the camps," writes Carl Gershman, president of the National Endowment for Democracy in a review. Escape is out in updated paperback edition March 26.
Obama's representative for N Korea singled out "courageous and charismatic" Shin Dong-hyuk and "excellent book" Escape from Camp 14 in testimony before Senate Committee on Foreign Relations.
Referring to Shin's horrifying experiences in Camp 14, Special Representative Glyn Davies told the Senate committee: "The world is increasingly taking note of the grave, widespread, and systematic human rights violations in the DPRK and demanding action." Davies said United States will support creation of a UN commission to investigate N. Korea's abuses against its own people.
Before Dennis Rodman revisits his "friend for life" Kim Jong Un, Sports Illustrated's Peter King and the Boston Herald editorial page advise him to  read Escape from Camp 14.
United States to support U.N. inquiry into possible crimes against humanity in N. Korea.
UN's Special Rapporteur for Human Rights in N. Korea calls for international inquiry into possible crimes against humanity.
Thanks to Google Maps, N. Korea's prison camps are easy targets for snark. My piece in Foreign Policy.
Greatness of N. Korea's young dictator is shown to inquiring minds in outer space. See Joshua Stanton's blog, One Free Korea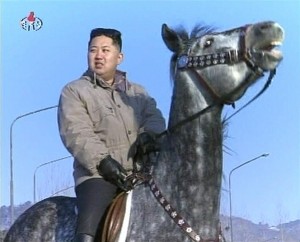 As U.N. moves toward investigating human rights abuses in North Korea…
Young dictator Kim Jong Un suddenly gets huffy, shaking his nukes and missiles at the United States. This "don't mess with me, I'm armed and crazy" strategy has worked for decades, as a cowed international community ignores unpleasantness in the labor camps.
Japan announces it will support a UN inquiry into labor camps in North Korea.
Next to Camp 14, a new political labor camp in North Korea? Satellite analysis by Curtis Melvin at North Korean Economy Watch. Map analysis by Joshua Stanton.

Demanding an international inquiry into human rights abuses in North Korea, UN Human Rights chief cites case of Shin Dong-hyuk, the hero of Escape from Camp 14.
In response, North Korea denounced "fictions about concentration camps of political prisoners," saying its recent missile launch has "sent a shiver down the spine of the U.S.."
Canadian national radio rebroadcasts in-depth program about Shin Dong-hyuk and Escape from Camp 14.
Financial Times picks Escape from Camp 14 as a best book of the year. South China Morning Post says it is a literary highlight of 2012.
With N. Korea's Dear Leader dead for one year, what's new with Kim the younger? Better rockets, tighter borders, same old repression.  My piece in Washington Post.
Online Focus, a major German weekly, examines young dictator Kim Jong Un, the old torturing ways of North Korea and Escape from Camp 14.
60 Minutes on Shin Dong-hyuk and Escape from Camp 14. Transcript.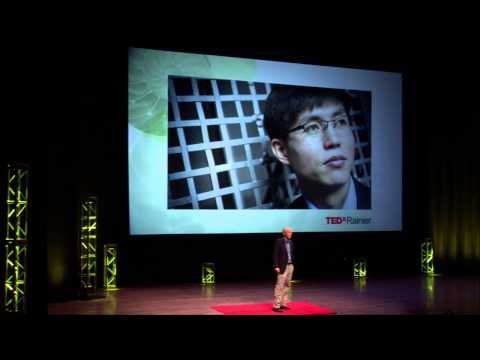 Blaine's TEDxRainier talk about Shin's life inside and outside of Camp 14.
Escape wins the Grand Prix de la biographie politique, a French literary award. The book "plunges the reader into a world of extreme and unimaginable inhumanity," judges said.
Best book lists:
Christian Science Monitor picks Escape as No. 5 on its list of year's best nonfiction. A Slate staff choice. School Library Journal names Escape as a best adult book for teens. Goodreads Choice Awards ranks Escape as No. 5 in history/biography.  Canada's largest bookseller, Indigo, picks Escape as the 8th best book.
Remarkable video report on Escape from Camp 14 from Germany's 3sat network. Review in Der Tagespiegel (Berlin) compares Escape to Solzhenitsyn's "Gulag Archipelago." 
Escape from Camp 14 has found an audience in translation. A bestseller in Switzerland, Germany, France, it was No. 1 bestselling nonfiction title in Denmark and Finland.
Reviewer John Delury: "anyone puzzled by the North Korean conundrum should read this book. By telling the story of one very unusual young man, Escape opens a unique window onto life in the DPRK."
Japanese translation of Escape from Camp 14 published in September.
Escape from Camp 14 is being published in German-speaking Europe. Der Spiegel has an excerpt and a story.
Shin Dong-hyuk and I were in Northern Europe in Sept. to talk about Escape from Camp 14
In Denmark, we were greeted by an extraordinary review in Weekendavisen, the country's leading weekly of politics and culture. The first paragraph: "Very few books have given this reviewer the urge to declare war on another country, but Blaine Harden's story about Shin's escape from North Korea is one of them… These political prison camps are a disgrace to our collective conscience."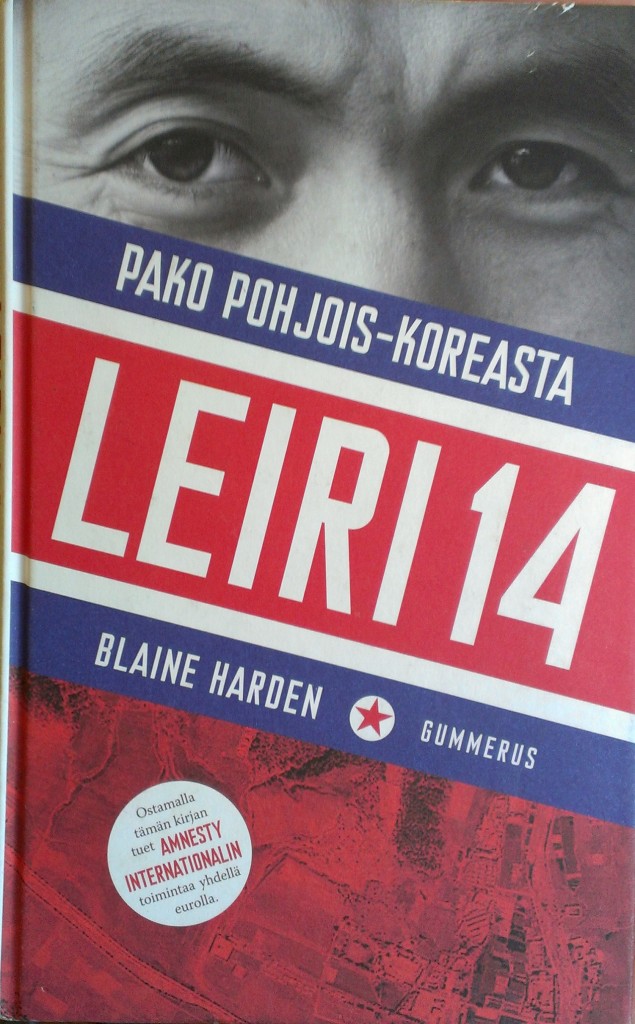 Escape was published in translation in Japan, Germany, Denmark, Finland and Norway. It will appear in Sweden in November. We were in Copenhagen, Helsinki and Oslo. The book cover here is the Finnish edition.
My interview with NPR's On The Media:
NKorea's effort to market a more huggable image, with a smiling young dictator and his smartly dressed young wife.
Review of Escape in Korea Review:
"In order to poke a hole in the world's bubble of ignorance, Harden and Shin have produced a powerful and extraordinarily distressing story… The world may never forget the Holocaust, but they must first know about Camp 14."
My piece in Foreign Policy on the Entertainment Tonight imaging of N. Korea's young dictator & his "mystery woman" wife.
Frontline probes the fault lines of a growing battle in the Bristol Bay region of Alaska, home to the world's last great wild sockeye salmon fishery – and enormous mineral deposits.  Reported by Blaine Harden (7.24.2012)
My Frontline web piece on the battle over Alaska's mega mine (7.23.2012)
School Library Journal picks Escape from Camp 14 as one of the best books of 2012
A book for teens of all ages: YouTube review of Escape from Camp 14  on 60second Recap® PickoftheWeek
Hindustan Times on Escape from Camp 14: "Harden gives us a book for which the adjective 'shocking' would be a shocking understatement."
Canada's National Post comments on Escape from Camp 14, calling it "dark and brutally unsentimental" and "extraordinary."
Book Forum review of Escape from Camp 14: "A slim, searing, humble book — as close to perfect as these volumes of anguished testimony can be."
Financial Times: "Escape from Camp 14 is a valuable read that casts a welcome spotlight on the most despicable regime on the planet."
"IN A VERY BRIEF TIME, Escape from Camp 14 has become a famous book," says the Asian Literary Review.
The story of Escape from Camp 14 "is so incredible, so rare and so in need of telling" that Canadian national radio gives it special attention.
Escape from Camp 14 is "a heart-crushing reminder that man's inhumanity to man has no limit." — Jeff Jacoby, Boston Globe
NY Times Op-ed: Bill Keller writes of Escape from Camp 14: "besides being a gripping story, unsparingly told, [it] carries a freight of intelligence" about North Korea.
Brian Lamb interviews Blaine about Escape from Camp 14 and life as a foreign correspondent on C-SPAN's Q & A
Washington Post review praises Escape from Camp 14 as an "important portrait of man's inhumanity to man" that is told in "spare, unadorned prose."
Provocative review of Escape from Camp 14 in 3:AM Magazine, a literary magazine published in Paris.
Citing Escape from Camp 14, chief prosecutor of Serbian strongman Slobodan Milosevic co-writes online NYT/International Herald Tribune op-ed demanding U.N. investigation of N. Korean labor camps.
Reuters: Escape from Camp 14 "combines a thrilling and unique tale of escape with a harrowing memoir."
Citing Escape from Camp 14, The Economist demands that the U.S stop hiding behind nuclear diplomacy, push harder on human rights.
Excellent video interviews with book's hero, Shin Dong-hyuk, and with me.
Reviews from the New York Times, the Guardian (London) and the Seattle Times:
NYT's Janet Maslin calls Escape "a fast, brutal read." Her review, though, incorrectly said that Shin Dong-hyuk tried to commit suicide in the camp by throwing himself down a mine shaft. The Times has published a correction. As hard as Shin's life was in Camp 14, he never lost the will to live.
The Guardian's Andrew Anthony says Escape is harrowing but important inquiry into "the gulag within the gulag."
The Seattle Times' Craig Welch says Escape is "a riveting, remarkable book that should be required reading in every high-school or college-civics class. Like "The Diary of Anne Frank" or Dith Pran's account of his flight from Pol Pot's genocide in Cambodia, it's impossible to read this excruciatingly personal account of systemic monstrosities without fearing you might just swallow your own heart."
Escape from Camp 14 climbs on New York Times bestseller list to No. 3 on ebooks and No. 12 on combined ebooks/hardbacks.
Wall Street Journal reviews Escape: "a searing account of one man's incarceration and personal awakening."
My op-ed in the Los Angeles Times about a real totalitarian state called North Korea and the pretend one in "The Hunger Games."
On NPR's Diane Rehm show, talking about Escape.
"A book without parallel, "Escape from Camp 14" is a riveting nightmare that bears witness to the worst inhumanity, an unbearable tragedy magnified by the fact that the horror continues at this very moment without an end in sight."
Amazon picks Escape from Camp 14 as a best book in April.
Blaine talks to Melissa Block
Escape "packs a huge wallop," the (Portland) Oregonian says in a review.
Review concludes: "This book packs a huge wallop in its short 200 pages. The author sticks to the facts and avoids an emotionally exploitative tone — but those facts are more than enough to rend at our hearts, to make us want to seek out more information and to ask if there isn't more than can be done to bring about change."
CNN Reports: Escape from Camp 14 a true North Korea survival story
Citing Escape, Washington Post editorial page editor Fred Hiatt writes that North Korea's labor camps are plainly visible, "but people do not want to see them."
The Atlantic excerpts Escape.
The Spectator (London) reviews Escape.
Canada's National Post says Escape "makes The Hunger Games and its fellow dystopias read like Fantasy Island."
The Wall Street Journal excerpt.
Starting Monday (March 26), it will be read on BBC Radio 4 in twice-daily installments through Friday. Readings will be available as podcasts for a week after broadcast. Radio 4 is the NPR of the UK.
The Guardian excerpt:
The piece was a web sensation: read by 38,00o on Facebook, shared by 16,000. Tweeted by 3,000.
First major review. It's a rave.
From the March issue of the Literary Review in London. By Jonathan Mirsky, a British journalist and East Asian expert.
Excerpts:
"Shin Dong-hyuk is the only person on earth born in one of North Korea's hellhole concentration camps who has escaped and told his story. During his twenty-three years in Camp 14, a ghastly place even by North Korean standards, Shin knew absolutely nothing of the world beyond the electrified wire. From a new prisoner who had lived most of his life outside the camps, Shin learned that the world is round, that there is a city called Pyongyang and countries called South Korea and China, and that in those and many other countries people have computers, mobile phones and television, and use something called money.
"…what really fascinated Shin was that outside Camp 14 there were people who had enough to eat. 'What he kept begging [for] were stories about food and eating, particularly when the main course was grilled meat,' which Shin had eaten only when he had trapped a rat.
"Harden deserves a lot more than 'wow' for this terrifying, grim and, at the very end, slightly hopeful story of a damaged man still alive only by chance…
"Don't imagine that this is a feel-good story about a man who has at last found happiness… [But] Shin has found a way of telling church and school groups in America what happened to him. Speaking to a congregation in Seattle, he recalled watching his teacher beat a six-year-old child to death in the classroom for hiding five grains of corn in her pocket. He told the shocked, weeping audience: "I didn't think much about it. They educated us from birth so that we were not capable of normal human emotions. Now that I am out…I feel like I am becoming human."
"Read it," Don Graham, chairman and CEO of the Washington Post Co., writes about Escape on his Facebook page:
"Many good books will be published this year. This one is absolutely unique.
"Shin Dong-hyuk is the ONLY person born in a North Korean political camp to escape and defect. He told his story at length to veteran foreign correspondent Blaine Harden, who wrote this extraordinary book.
"Holocaust analogies are embarrassing, but what other analogy is there? This is the story of a modern death camp. Shin was confined there because two of his uncles had fled to the south during the Korean War. In 1951. Shin was born in 1982 and escaped in 2005. His first memory is of an execution. He watched his mother and brother executed (this is a complex, awful story). Prisoners are required to memorize ten rules; eight describe offenses for which prisoners "will be shot immediately."
"Prisoners are barely fed, worked for 12-15 hour days and usually die of malnutrition-related illnesses before they turn 50. There are several such camps. The US State Department believes 200,000 people are confined in them.
"I don't say that there's an answer to the issues raised by this book. But there is a question. And the question is: 'High school students in America debate why President Franklin D. Roosevelt didn't bomb the rail lines to Hitler's caps. Their children may ask, a generation from now, why the West stared at far clearer satellite images of Kim Jong Il's camps and did nothing.'
"This is tough reading. Read it."
Adam Johnson, author of an extraordinary new novel about North Korea, praises Escape on Facebook:
"The book is fleet and powerful–there's no human story like it in the world. The tale of Shin Dong Hyuk was one that influenced aspects of my novel The Orphan Masters Son a great deal, and I'm indebted to Blaine for applying his great journalistic skills to bring this unique and powerful story fully to light."
"Coming at the end of March is "Escape From Camp 14: One Man's Remarkable Odyssey from North Korea to Freedom in the West," the true story of Shin Dong-hyuk, who is the only person known to have been born in a North Korean gulag and escaped all the way to South Korea
"Written by Blaine Harden, former East Asia correspondent for the Washington Post, the book describes Mr. Shin's awful, harrowing, tragic and ultimately affirming life," blogs  Evan Ramstad, the Journal's bureau chief in Seoul.
Escape is part of a new "Korean wave" of books in English, Ramstad says. The others are "The Orphan Master's Son," a fabulous new novel about North Korea by Adam Johnson, whom I met in Seattle a few weeks back, and "Drifting House," a collection of well-reviewed short stories about ordinary North and South Koreans by Krys Lee, a Korean-American writer who lives in Seoul. These two books have been published in recent weeks.
Ramstad writes that "both Ms. Lee and Mr. Johnson will soon be sharing store shelves with a book that may get even more attention because its subject matter is the darkest secret on the Korean peninsula – the concentration camps in North Korea."
The first review is in: "Reads like a dystopian thriller."
"With a protagonist born into a life of backbreaking labor, cutthroat rivalries, and a nearly complete absence of human affection, Harden's book reads like a dystopian thriller. But this isn't fiction—it's the biography of Shin Dong-hyuk, the only known person born into one of North Korea's secretive prison labor camps who has managed to escape and now lives in the U.S. Harden structures Shin's horrific experience—which includes witnessing the execution of his brother and sister after their escape plan is discovered—around an examination of the role that political imprisonment and forced labor play in North Korea and the country's fraught relationship with its economically prosperous neighbors South Korea and China While Shin eventually succeeds in escaping North Korea's brutal dictatorship, adjusting to his new life proves to be extraordinarily difficult, and he wrestles with his complicity in the atrocities of his past—he informed on his mother and other brother, which led to their execution. "I was more faithful to the guards than to my family. We were each other's spies," he confesses. Harden wisely avoids depicting the West as a panacea for Shin's trauma, instead leaving the reader to wonder whether Shin will ever be able to reconcile his past with the present. Harden notes both the difficulty of obtaining information about daily existence in North Korea and of fact-checking such information (including Shin's own version of events), and the book's brevity may leave readers wanting more from this brisk, brutal, sorrowful read." Publisher's Weekly, 10/10/2011
Starred review in Library Journal: "A gripping story… that all adults should read."
"This is a relentlessly disturbing book, more so because Harden (former East Asia bureau chief, Washington Post) presents the facts dispassionately. Shin Dong-Hyuk was born in 1982 in one of North Korea's gulags, Camp 14, which covers 108 square miles and holds about 50,000 prisoners. In a world of horrific living conditions, brutal punishments, and competition for minimal scraps of food (supplemented by secret hunting for frogs, rats, and bugs), Shin was oblivious of such concepts as affection or honesty, knowing only the instinct to survive. Seeking to be a dutiful prisoner, at age 13 he informed on his mother and elder brother who planned to escape. Shin saw them beaten and killed, which at the time affected him little. At 23, he escaped, one of few to do so and survive. VERDICT Following Shin's story from North Korea to China to South Korea and eventually to the States and connecting it to the larger story of North Korea's dictatorship and culture, Harden (who has met Shin several times since 2008) tells a gripping story. Readers learn of Shin's gradual discovery of the world at large, nonadversarial human relationships, literature, and hope—and the struggles ahead. A book that all adults should read.—Margaret ­Heilbrun, Library Journal, Feb. 14, 2012.
"If you have a soul, you will be changed forever by Blaine Harden's Escape from Camp 14.
"No longer will you describe North Korea with sweeping but impersonal adjectives – repressive, brutal, authoritarian. Now you will know a specific kind of hell, designed to crush the spirit of nearly all doomed to live there, as revealed by the experiences of a remarkable young man named Shin. Born inside the electrified fences of a political prison camp – concentration camp is more like it – Shin eventually escapes a world where morality has no meaning. Harden masterfully allows us to know Shin, not as a giant but as a man, struggling to understand what was done to him and what he was forced to do to survive. By doing so, Escape from Camp 14 stands as a searing indictment of a depraved regime and a tribute to all those who cling to their humanity in the face of evil. – Mitchell Zuckoff, author of Lost in Shangri-La
More Early Praise for Escape from Camp 14
"This is a story unlike any other because Shin is one of the few, if not only, long-term prisoners to have escaped from the North Korean gulag.  It is most harrowing not only because it is true, but because the conditions it describes persist to 2011 in North Korea, where a vast gulag is home to hundreds of thousands of slave labourers, including children bred in captivity, like Shin.  More so than any other book on North Korea, including my own, Escape from Camp 14 exposes the cruelty that is the underpinning of the North Korean regime. Blaine Harden, a veteran foreign correspondent from The Washington Post, tells this story masterfully. Harden doesn't flinch from the darker side of the story. He takes straight-on questions about Shin's credibility and explains methodically how he went about corroborating his story… The integrity of this book shines through on every page" – Barbara Demick, author of Nothing to Envy: Ordinary Lives in North Korea
"In Escape from Camp 14, Blaine Harden tells the astonishing tale of Shin Dong-hyuk:  his birth and upbringing amid the barbarism of a North Korean prison camp; his betrayal of family; and his eventual escape and resettlement in the United States. Through the extraordinary arc of Shin's life, Harden illuminates the North Korea that exists beyond the headlines and creates a moving testament to one man's struggle to retrieve his own lost humanity" – Marcus Noland, co-author of Witness to Transformation: Refugee Insights into North Korea
"Over 21,000 North Koreans have succeeded in escaping to South Korea by 2011. So far as we know, only one was born in a political prison camp in the notorious North Korean gulag. Author Blaine Harden tells the story of the lucky Mr. Shin, who escaped from twenty-three years of hardship in Camp 14 and found his way to South Korea and eventually to the United States. Mr. Shin's story, at times painful to read, recounts his physical and psychological journey from a lifetime of imprisonment in a closed and unfeeling prison society to the joys and challenges of life in a free society where he can live like a human being." – Kongdan Oh, co-author of The Hidden People of North Korea: Everyday Life in the Hermit Kingdom
"A beautifully written account of a horrible place, Escape from Camp 14 is both a shocking expose of North Korea's political prison camps as well as a testament to the human spirit's ability to dream and hope even in the darkest hell." — Suzanne Scholte, Seoul Peace Prize Laureate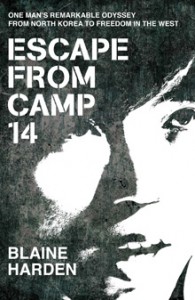 Cover for UK edition. To be published by Mantle, an imprint of Pan Macmillan in late March.
Publishers Weekly talked to Blaine for the November 21, 2011, edition of the magazine. Here
Book Trailer: