"A hard-nosed, clear-eyed, tough-minded dispatch on the sort of contentious subject that is almost always distorted by ideology or obscured by a fog of sentiment…A scathing indictment of technocratic hubris …. A precise and brave book."—New York Times Book Review
"Superbly reported and written with clarity, insight, and great skill."—Washington Post Book World
A River Lost is the story of the West's most thoroughly conquered river. Blaine traveled the length of the Columbia to understand those who collaborated in the river's transformation. It devolved from the world's premier salmon resource to a series of slackwater lakes between giant plugs of concrete.
A River Lost (W.W. Norton) — Revised and updated with a new preface and the latest twists in the long war over the future of the Columbia.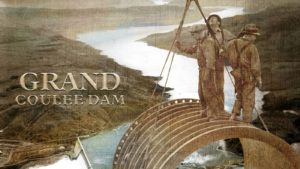 PBS American Experience, Grand Coulee Dam, featured extensive interviews with Blaine about the damming of the Columbia and the consequences for salmon, Native Americans, and for his father, who helped build the damn in the 1930s. As a college student in the 1970s, Blaine also worked at the dam as a laborer. He was fired for complaining about safety.
An interview with Blaine about the revised edition of A River Lost and some hopeful change in management of the Columbia River appeared on Oregon Public Radio and in EarthFix.